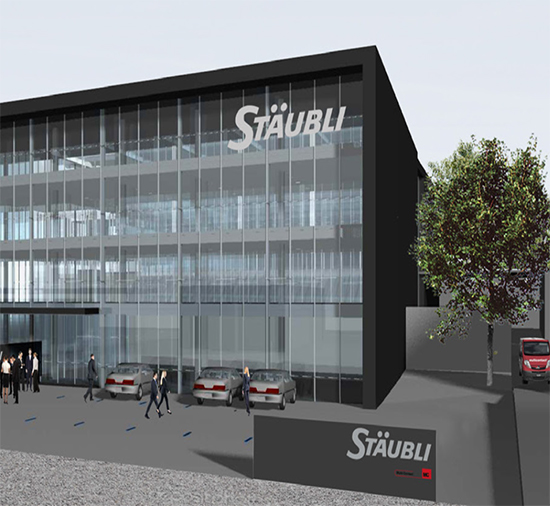 Stäubli Electrical Connectors is expanding
Stäubli Electrical Connectors (formerly Multi-Contact), a globally-oriented expert in connectors, is modernizing its international headquarters in Allschwil. The groundbreaking ceremony for the new construction took place today in the presence of Allschwil town council president Nicole Nüssli-Kaiser.
Since 1979, Stäubli Electrical Connectors has been located in Allschwil on Stockbrunnenrain Street. The company, which was established in 1962 under the name Multi-Contact, has belonged to the international Stäubli Group since 2002 and adopted the Group's name and brand in 2017. Besides international sales and marketing, the Allschwil site also houses a modern production facility, research and development, and the headquarters of the global engineering department. The manufacturer of advanced electrical connection solutions pursues a continuous growth strategy over the coming years. As part of this, the Allschwil headquarters will be expanded for the employees, of which there are currently about 270 — a clear commitment to this location.
An imposing new 22,800 m3 administration building with excellent light, an impressive glass facade, an ample customer visitor zone, and an employee lounge to be used as a meeting area will be created on the company's premises. The three floors are designed for the greatest possible layout flexibility for contemporary office workspaces, with the goal of bringing the individual departments closer together and shortening the channels of communication. The energy concept for all building sections is based on a heat pump system and solar energy from photovoltaic panels.
The groundbreaking ceremony on the company grounds took place today in the presence of Allschwil town council president Nicole Nüssli-Kaiser as well as architect Stefan Meyer of Basel. Franco Delvecchio, CEO of Stäubli Electrical Connectors and a member of the Stäubli Group Executive Committee, is very pleased: «The transparent architecture and building clustering concept create close connections and an exciting environment for developing advanced, high-tech plug-in connectors. With state-of-the-art workspaces, we will offer our employees an attractive setting to encourage innovation as the key to the lasting success of our company.» According the project plan, the completion of the new company headquarters of Stäubli Electrical Connectors is scheduled for summer 2020.