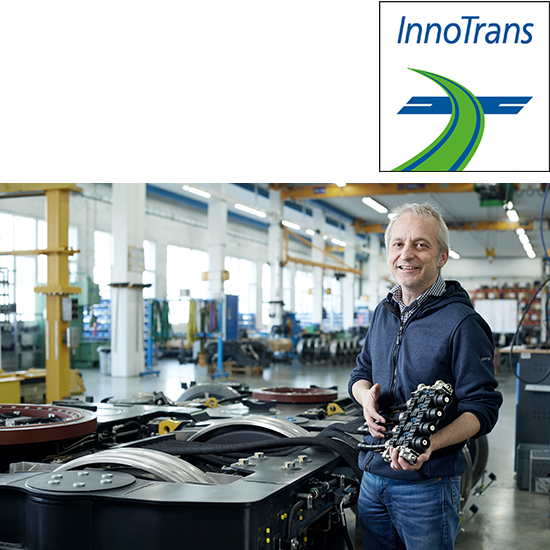 InnoTrans, September 18 - 21 2018,
Berlin, Germany
From September 18 - 21 2018, Stäubli will be presenting its wide range of connection solutions for the railway and transportation markets at InnoTrans, international trade fair 2018.
With its industry-specific portfolio of quick couplings and
electrical connectors
, Stäubli provides connection solutions for all rail applications in which fluids, gases or electrical energy are transported.
Stäubli is constantly expanding its product portfolio for railway technology
and will be showcasing the following, amongst others, at Innotrans 2018:
The latest addition to the range of Modular Power Connector (MPC): a new model in a smaller size to address the requirements of further applications.
The modular connection solution CombiTac: for applications with the need to connect a combination of power, signal, data, thermocouple, coaxial, fiber optic, pneumatic and hydraulic connections within a single frame.
Quick-release mono and multi-connections for cooling of on-board electronic equipment, engines and transformers. Not only do these connection solutions offer safety and reliability, their non-spill flat-face design also protects circuit integrity and the environment.
The comprehensive portfolio of fluid and gas couplings will be shown in Hall 10.2, Booth 201, and the
electrical connection solutions
are exhibited in
Hall 12, Booth 208
.
Fig. 1:
"Stäubli's fast and reliable connector solution supports both our manufacturing during assembly and our customers' productivity during maintenance."
Heinz Hofer, Project Manager Mechanical Engineering Stadler Rail
More information