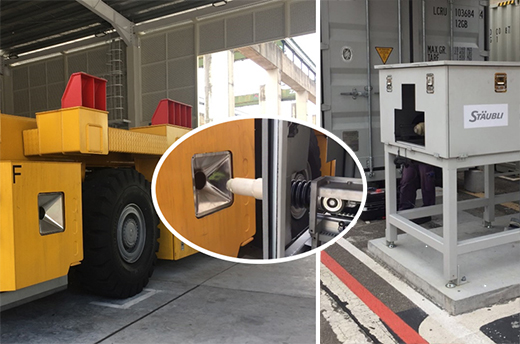 Sophisticated charging systems for automated guided vehicles (AGVs)
Industry 4.0 and Logistics 4.0 go hand in hand in tight synergy. New technologies will significantly revolutionize the logistics of the future. Automation, networking, decentralization, and real-time capability are no longer unfamiliar concepts. This evolution requires interfaces and connections for data, energy, and signals that ensure safe operation of the systems. Stäubli Electrical Connectors, the specialist for reliable, high-performance connectors, offers efficient standardized or tailored solutions for indoor and outdoor use in logistics.
Turnaround of goods is the business of logistics: everything is constantly in motion. Electrically driven Automated Guided Vehicles (AGV) are an integral component of forward-looking logistics applications. Powered by batteries, they navigate through warehouses or container ports and make a significant contribution to increasing efficiency and reducing costs in logistics processes.
Automatic battery replacement systems and high-performance charging stations are used to keep the AGVs in constant motion and prevent workflow disruptions. Stäubli Electrical Connectors has perfectly tailored, powerful, safe solutions for nearly every challenge in charging applications. For example, the automatic quick charging system QCC (Quick Charging Connection) system offers a market-ready automatic connection solution for fully-automated logistic processes.
Reliable and fully automated solution: Integrated angular and positioning misalignment compensation
Increased cost efficiency: Reduced battery size and lower costs; integrated self-cleaning mechanism guarantees reliable; low-maintenance operation and a long service life; designed for high numbers of mating cycles
High level of safety: completely touch-protected; waterproof
Compact, versatile and easy to integrate
Brochure

Video