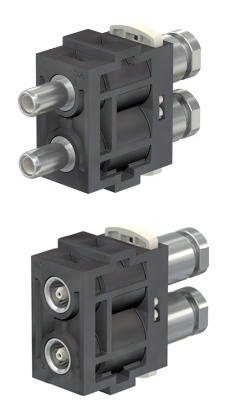 The new CombiTac 6 GHz coaxial unit with crimp
or SMA termination
Suitable for connecting 50 Ω RG type coaxial cables up to 6 GHz.
The new CombiTac 6 GHz coaxial unit from Stäubli Electrical Connectors allows you to connect 50 Ω RG coaxial cables by means of crimp or SMA termination. Two 2.4 GHz crimp versions are available, one for RG58 cables and one for RG316/U, RG174 and RG188 cables.
The SMA version allows you to connect any 50 Ω RG cable type up to 6 GHz, including RG58, RG316/U, RG174, RG188, RG196, RG213, RG223 and many more.
Both Crimp and SMA units are designed for industrial, broadcasting and aerospace & defense applications that require long life solutions with high resistance to shock and vibrations. The coaxial units are also suitable for railway applications as they meet railway standard fire and smoke requirements.
Due to the modular design of the new CombiTac 6 GHz unit, each individual crimp or SMA connector can quickly and easily be removed or inserted into the coaxial carrier without the need of tooling, or the need to disassemble the complete connector, and therefore ensures maintenance time and costs are kept to a minimum.
This flexible solution also offers the opportunity to make future adaptations or upgrades while avoiding unnecessary replacement expenses. For example, you may switch to connecting other RG cable types to the same SMA CombiTac connector by simply changing over the SMA interface on your cable.
• Crimp termination for RG58, RG316/U, RG174, RG188 cables up to 2.4 GHz
• SMA termination for any 50 Ω coaxial RG cable types up to 6 GHz
• 100'000 mating cycles
• UL 1977 compliant
• Resistance to shock and vibrations (EN 61373 category 1B)
• Railway standard compliant material according to EN 45545-2 (HL3 R22 – R23)
For more information, see the CombiTac 6 GHz unit
flyer
, or visit
www.combitac.com