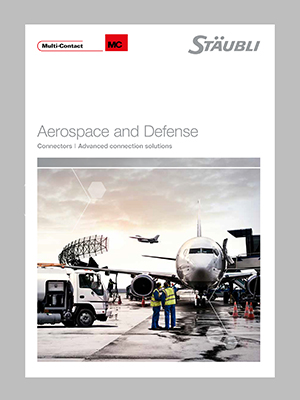 New brochure for Aerospace & Defense available
The new brochure for the Aerospace & Defense sector has been developed in close collaboration and represents the referential document for both electrical and fluid connector solutions in this domain. It illustrates the strength and expertise we are able to offer to our customers. Furthermore, this brochure emphasizes our capabilities to support the most demanding industries. Stäubli connector solutions cover and exceed the customer's technical requirements in terms of power density, compactness and extreme reliability in harsh environments.
The four main messages are:
Customers benefit from concerted synergies between the two connectors divisions. The close networking allows to even better fulfill our customers' expectations.
Internal testing capabilities ensure to deliver products that have been thoroughly tested under specific A&D environmental conditions.
Main A&D applications demonstrate the full connectors capabilities in the field of electric, hydraulic and pneumatic interfaces for both the civil and the military domain.
Specific expertise guarantees technologically advanced connection solutions that offer highest reliability and safety.
Brochure